Make Your Own Sandwich Platter Party Idea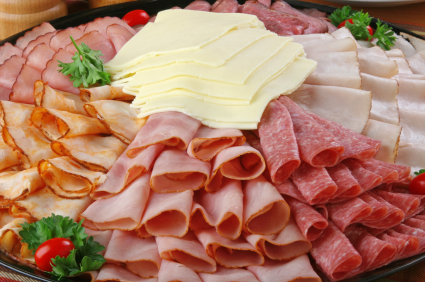 Creating a sandwich platter for an at-home party is easy and versatile. I love to have friends over. I also love to cook. But, in reality, cooking especially for a bigger group can be tiring and expensive.
Recently we had family over (Christmas Afternoon) and instead of a making a big dish, we opted to bake a small ham and turkey breast. They cooked the day before and we sliced them an hour or so before the guests arrived.
I placed a big platter
at the center of the serving table with the sliced meats and provided a variety of condiments on either side. A big bowl
of fresh rolls and bread slices was ready, as well as a store-bought coleslaw and homemade Sesame Noodle Salad and the Barefoot Constessa's French Potato Salad were in medium sized bowls. Plates were paper and plastic-ware wrapped in pretty festive paper napkins were ready for the guests.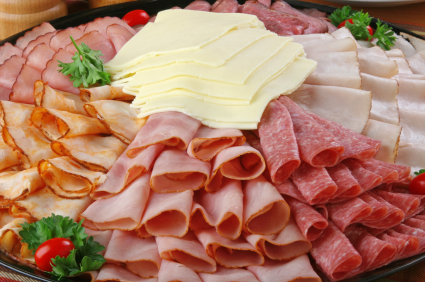 Preparing Sandwich Platter
1. Purchase cold cuts or cuts of meat. (I bought a ~3lb Hormel Fully Cooked Ham and a store brand turkey breast. I placed the ham on a foil covered baking sheet and topped it with sliced pineapple. Since it was already cooked, I just warmed it up a bit about an hour or so before the guests arrived and sliced it. The turkey breast was marinaded with wine, lemons and olive oil and cooked the day before and sliced the day of.)
2. Select side salads. You shouldn't need more than 2-3, and can be certainly store-bought. Think about your guests and what they typically enjoy. Are they more of potato salad or garden salad kind of people? Or both?
3. Stock up on disposable, nice looking cutlery and plates. It may an informal meal but keep things looking nice with good looking "Looks Like Silver" Disposable Flatware
 or Bamboo style plates. Love it!
4. Be sure to have appropriate condiments. You might want to splurge on an unusual mustard or good quality ketchup – remember the Sir Kensington's Ketchup that I tried in NYC. That would be a perfect one.
5. Bread should be fresh – not necessarily right out of the oven, but it shouldn't be too hard to bite into.
6. Relax and enjoy the informal, delicious party!
A make-your-own sandwich platter is a great way to serve delicious food for friends! Try it!