Tackle It Tuesday – The Party Supplies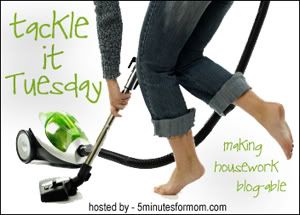 Smart Mama Move: Organize your party supplies in the same area. When it's time for party planning you'll save yourself time, energy and frustration!
I took on a great tackle this weekend. During my post-BBQ clean up on Sunday, I decided to make sense of my "party goods." Prior to the tackle, I had plastic utensils all over the place – a few in the kitchen drawer, a bag in the hallway closet and even some in the garage. The same goes for cocktail napkins and other things. I had to spend too much time last week gathering the supplies so I decided to organize them together – imagine that!
Here are 2 drawers that I have my dining room that were being used to collect random things – what a mess!


Now, they neatly hold all my cocktail napkins (stored in plastic bags by pattern), cloth napkins for baskets, cheese/butter spreaders (also in a plastic bag), utensils, napkin holders and some other little things.


What a difference!
Giveaways & Munchkin!
Don't forget to participate in this week's Smarty Pants Product of the Week giveaway! See the link to the right!
Also, please be sure to enter your munchkin for chance to be Munchkin Monday! Simply email me a photo, 1st name, birthday, likes and dislikes. Your munchkin will have 15 minutes of fame as you get to share the posting with friends and family. Email: SmartyPantsMama @ gmail . com