Creative Ways to Use Tape with Kids
Enter your local Office Depot store and you're bound to find a tremendous display of the 3M Expressions Tape. I entered our local store recently with my girls and they were instantly drawn to this display. The colors and patterns were so captivating. They wanted every roll. There are so many ways to use tape with kids so I just had to say yes! PS – There's a coupon link at the bottom of this post!!!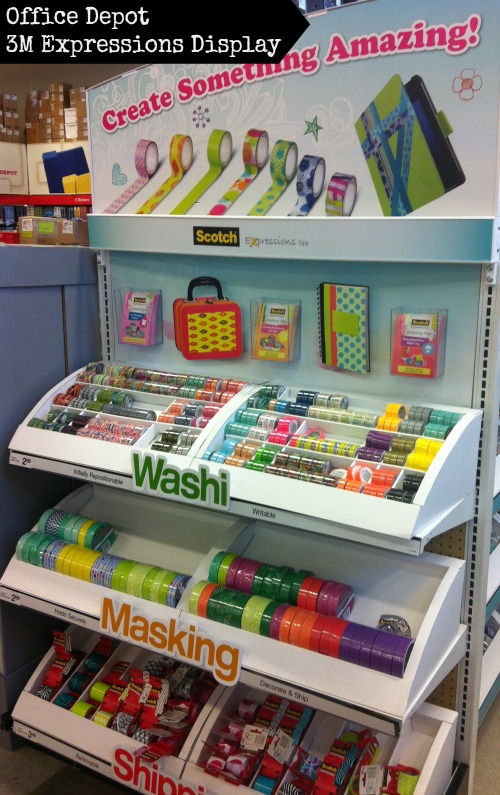 We had a few projects in mind so we selected about 2 dozen rolls, to add to the many rolls I already had at home. Our first "project" would be that afternoon as we quickly got ready for a birthday party.
Gift Wrapping with Tape
I wrapped the gift in brown paper which my daughter didn't like AT ALL explaining that is was "boring!". I suggested we take out some of the tape and dress up the packaging.

We used the Washi Poppy Tape for this gift.
Playroom Color Creator
Our next project involved the playroom and the decorative 3M Duct Tape! We have a big L-shaped built-in for the toys and such. It's very plain but functional. To add color to the piece we placed the Pastel Polka Dots Duct Tape vertically on each drawer and cabinet door. It came out exactly the way we wanted. NOTE: Be sure to wipe the area you'll be taping with rubbing alcohol before you tape. This will clean off any dust or residue that could prevent the tape from properly adhering.
Picture Frame Creator
We have LOADS of beautiful canvas creations! My daughter was in an art camp this summer and has been to many art birthday parties. The canvases are beautiful but I haven't been certain of where and how to hang them. Look at the creative framing she came up with. We're going to use 3M Command Strips to adhere them within the rectangles she creates with the 3M Expressions Masking Tape.
Play Date Craft!
While at Office Depot we also picked up a dozen plain yellow folders and mini-notebooks. With a play date of 8 girls coming up we came up with an idea of using the tapes to decorate items for back to school.
Each friend had a blast decorating their items with the different 3M tapes we had. They loved all the patterns and got very creative in how the designed and decorated.
3M Coupon
Ok, I know you're eager to get to use tape with kids or do a craft with the 3M Expression tape!!! 3M has provided a coupon for SmartyPantsMama.com readers! There are 2 ways to access the savings:
If you would like to print out the 3M Tape coupon to bring to Office Depot.
If you would like to purchase the 3M Tape online and use the online Office Depot coupon.
Disclosure: I received 3M Expressions Tape to help facilitate this review and was compensated by Office Depot for my time. For more information, about Scotch Expressions Tape at Office Depot, visit them at: http://bit.ly/Caroline3M