Smart Deal: Free 8×10 Canvas Photo
A few weeks back I saw 2 beautiful canvas photo prints in my cousin's playroom. The photos were of great quality, and the printed on canvas look worked so well in a playroom.
She mentioned that I needed to get to CanvasPeople.com because I would be impressed with the deal they offered.  I knew I needed to get the details!
Well, she was right! CanvasPeople.com offers customers a FREE 8×10 photo canvas!  You select & upload the photo and you will receive a top quality canvas photo ready for your playroom or other room.  It's certainly an excellent way to use a summer picture!   This FREE canvas ($55 value) requires you to pay the $14.95 shipping charge.  You can also opt to use the $55 towards the purchase of a larger canvas.  For example, the most popular size, 11×14 retails for $64.99.  With your $55 credit, you will only pay $9.99 plus shipping!  Impressive!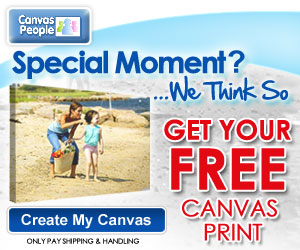 To take advantage of this incredible Smart Mama Deal, visit
CanvasPeople.com, upload your photo(s), select framing & color effects (frames and color effects increase price) and you'll be ready to place the order!  It's that easy!
As an added bonus, Canvas People also offers 50% off each additional canvas photo item after the first!